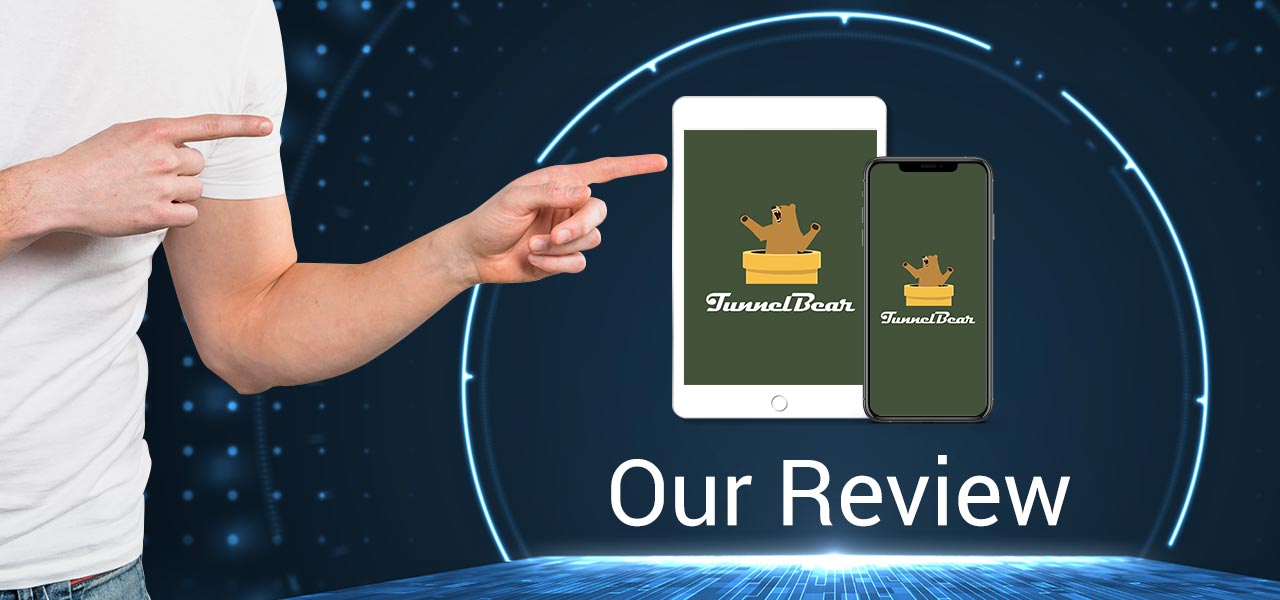 If you feel strongly about privacy, getting an outstanding VPN to reflect your way of life is a priority. But if you're new to the VPN experience, the learning curve could be daunting. TunnelBear VPN offers a bear-y simple and friendly solution to the privacy-loving beginner. Does it give a roaring performance true to its name? Find out in this TunnelBear review.
Buy Now
Finally, a Simple but Strong VPN for Privacy Protection
TunnelBear VPN ensures you get solid privacy protection without the jargon - subscribe now.
Is Tunnelbear VPN Safe?
Between their collective experiences in working at Goldman Sachs, Microsoft, and RIM Ryan Dochuk and Daniel Kaldor were able to launch TunnelBear VPN in 2011. Based in Toronto, Canada, TunnelBear has expanded to  over 350 server locations throughout 22 countries, including Australia, Asia, Europe, and North & South America servers.
TunnelBear's most attractive feature is its easy to maneuver software and user-friendly interface that benefits beginners.The most important question to answer in this review is – Is TunnelBear safe? Well, the fact that millions are using TunnelBear VPN to prevent data theft and IP-based tracking should count for something.
Unlike the top-seeded VPNs, TunnelBear is not exceptionally fast, but its speed works just fine. When streaming, expect speed loss from time to time. TunnelBear is no exception when it comes to this drawback; however, the difference in speed is not much. Even as your internet speed decreases by a few points, you can still stream and view HD videos without buffering or lags.
TunnelBear VPN gives you access to 22 country servers. The few number of servers that it has may be viewed as a letdown by some people, but surprisingly,  this doesn't curb its speeds. Once subscribed, you can connect up to 5 simultaneous PCs, laptops, tablets, or smartphones to its servers.
But what other TunnelBear VPN features can redound to your benefit?
TunnelBear Review: Plans and prices
TunnelBear VPN is considerably cheaper, especially if you enter a yearly commitment. The TunnelBear free trial lets you experience their service with a 500Mb monthly data cap. You can take the opportunity to gauge the ability of this VPN with the TunnelBear trial. Students would be happy to know they get a 70% discount with the TunnelBear coupon.
Is TunnelBear safe when it comes to payments? TunnelBear accepts payments via credit & debit cards, and Bitcoin. Unfortunately, TunnelBear has halted its money-back-guarantee program until further notice.
The free plan gives you a month to test out their service while providing 500Mb of secured browsing.  You might be wondering, if used under a free plan, is TunnelBear safe?
As it is with free stuff, there are compromises. It isn't as secure as the paid subscriptions and could make you more vulnerable. Thus, when choosing a free plan, do it with caution. It's still best to go with a paid VPN.
TunnelBear VPN Summary Sheet
| Feature | Value |
| --- | --- |
| Zero-logs? | Yes, your data and identity are safe |
| Works with torrents? | No |
| Netflix | No |
| Multi-login | 5 simultaneous connections |
| Covered countries | 23+ |
| Supported OS | iOS, macOS, Windows, Android, Chrome |
| Money-back guarantee | N/A |
| Protocols | OpenVPN, IKEv2 |
| Traffic data | Unlimited |
| Encryption | Strong: Military AES 256 bits |
| IP Addresses | Undisclosed |
| Servers | Undisclosed |
TunnelBear Review: How to Use the VPN
Is TunnelBear safe to use for Netflix and P2P?
TunnelBear Netflix
The bad news: TunnelBear Netflix US doesn't work. However, on the bright side, its speed is more than enough to stream your favorite shows and videos from local providers and companies that don't have geo-blocked content. But when you're raring to binge on your favorite shows, prepare to be disappointed with TunnelBear Netflix.
Torrent
Allowing torrents is a taboo topic in the industry, so very few VPNs advertise this capability. But yes, TunnelBear torrenting is possible, and so is downloading files via P2P. 
TunnelBear respects privacy by not keeping logs or identifying information. Therefore, you can "bear-owse" with confidence.
TunnelBear Review: VPN Features
Security
TunnelBear uses rock-hard encryption for all operating systems.  For Windows and iOs11+ devices, TunnelBear uses OpenVPN/IKEv2 protocol and military-grade AES-256-CBC encryption, along with SHA256 data authentication. For Android and macOS, the VPN utilizes only OpenVPN protocol and AES-256-GCM encryption technology.
IP/DNS leak protection
TunnelBear won't leak your IP or DNS  when it's connected. I've tested it – and no IPv4 or IPv6 leaks were detected when I used the VPN. Therefore, you can ease your mind knowing there won't be any data leaks.
Killswitch
TunnelBear's killswitch comes in its VigilantBear option. VigilantBear is an added security measure, in case you lose connection with the VPN, and risk revealing your public IP address. You're automatically disconnected from the Internet so that risk is prevented.
Windows client
TunnelBear goes the extra mile to keep its Windows client super convenient to use.
Interface
TunnelBear is perhaps the most approachable VPN when it comes to design. Interface-wise, the VPN scores big for being minimalistic and astoundingly simple. Once installed, you'll see a visual representation of your connections. And with a simple on and off switch, nothing could be more comfortable.
Settings
Despite is simplicity, TunnelBear also lets you tweak settings based on what level of privacy you need. Of course,use  turning on some features such as the kill switch (VigilantBear) is non-negotiable. However, you can opt to use its GhostBear feature when you're located in an area where you absolutely need to get past firewalls or ISP throttling. The stealth mode of say, Tunnelbear China, works great to obfuscate your VPN.
Also, the "Trusted Networks" and "Account" tabs allow you to securely connect to your chosen WiFi and monitor your account settings.
Customer service
Unlike other VPN services, TunnelBear VPN doesn't have live chat support. They use a ticketing system that you can easily access through the software or via their official website. Despite the absence of a live chat feature, TunnelBear can provide quick and informative customer service. You can expect rapid responses and follow-ups from their representative.
Conclusion
Overall, Tunnelbear VPN is big on simplicity, minimalism, and user-friendliness. However, it has a limited server network, can't unblock Netflix US, has no live chat feature, and no money-back guarantee – things which you need to consider. Despite these drawbacks, this TunnelBear review concludes that you need to give this VPN  shot. It still delivers the privacy and security you need to live your wired life to the fullest.
PROS
Military-grade 256-bit AES encryption
Relatively cheaper
No-log policy
User-friendly interface
CONS
No Netflix US, UK, or Hulu unblocking
No live chat support