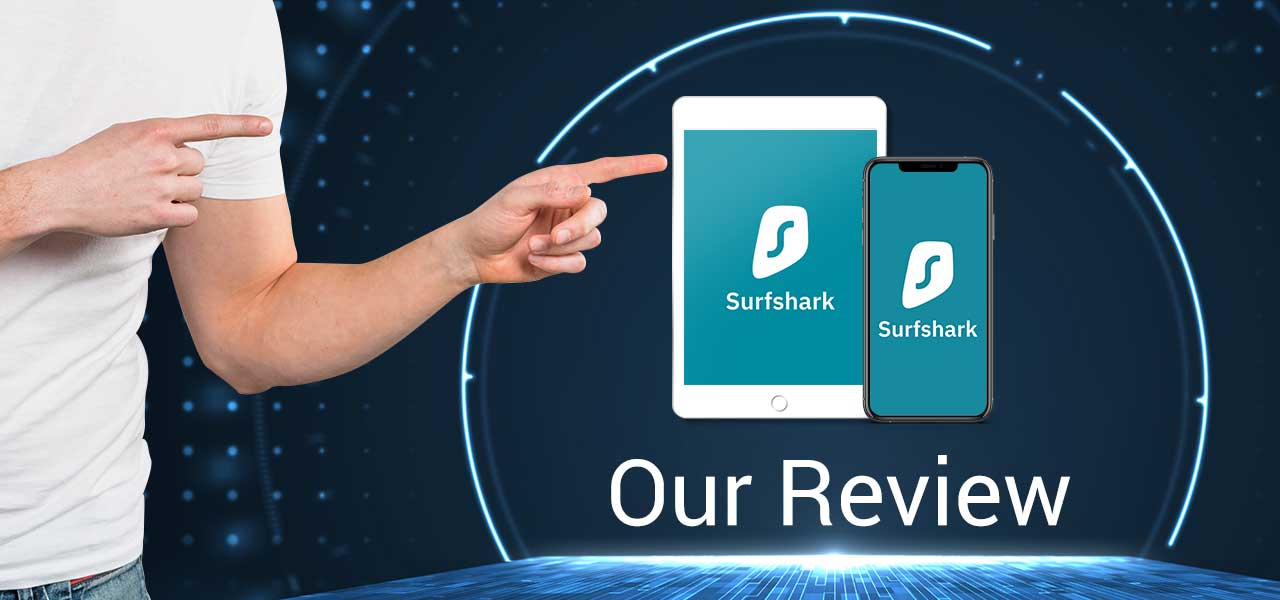 This brand new VPN has so much to offer at such a cheap price! That's right, it claims to have lightning fast servers, no logs, unlimited simultaneous connections, and allows you to access any site, content, and streaming platform. Still don't know whether it's true or not? Stick around in this Surfshark VPN review to find out!
Get It Now
Secure your internet browsing and your digital life with Surf Shark VPN
Here is one of the cheapest virtual private network of the market. Try it today, risk-free.
Surfshark VPN Review: Is Surfshark legit?
The first part we'll be tackling in this Surfshark VPN review is focused on the company itself. I mean, if you haven't heard of this provider before, of course, you'll need to know what you're dealing with.
After all, you should be able to trust it fully before handing over your data to them. You don't want to learn after that the VPN provider you chose was actually putting your personal information at risk all along. Especially when you were paying for it.
The VPN Surfshark is based in the British Virgin Islands and, it's been operational since the year 2018. This is already a point for this provider since our trusty ExpressVPN is also based in the same place.
The location headquarters of a VPN is very important when it comes to the protection of your private data. There are some countries that require all data service providers (like VPNs) to hand over or show the contents of their clients' information. But the British Virgin Islands has no such obligatory data retention law. This way, they can confidently promise a no-log policy to its clients. This means that the company will not log or record any of the data or internet traffic of its users. So, even if hackers or government agencies come banging on their door, they won't be able to find anything!
On their website, you can't find much information about their company except for their CTO: Magnus Steinberg. And from what I've researched, I discovered that their company is actually part of RIPE Network Coordination Centre.
Surfshark Review: Price and Payment Plans
As you may have read earlier in the Surfshark review, you can expect very affordable prices from this provider (YAY).
It allows you to choose from 3 different plans which all have the complete features of the VPN. You can opt for the 1 month, 1 year, or 2 years. And the golden rule in VPN subscription is the longer the commitment, the cheaper the price. This rule also applies to this new provider. If you get the one month plan, you'll be paying full price for a service that you can only use for a month. So, I recommend getting the 2-year package and availing of the 82% discount (talk about a steal).
The company's payment methods are through PayPal, all the big credit cards, and even cryptocurrency.
Technically, there's no free trial, but you can try it out for 30 days. If you avail of their 30-day money-back guarantee, you can definitely get to check out all their features and see for yourself!
Surfshark VPN Review: Summary of the Details
| Feature | Value |
| --- | --- |
| Zero-logs? | Yes, your data and identity are safe |
| Works with torrents? | Yes |
| Netflix | US, UK, IN, IT, NO, DE, AU, JP, KR, PL, FR, CA, TR, SE, SG, NL |
| Multi-login | ∞ simultaneous connections |
| Covered countries | 63+ |
| Supported OS | iOS, Android, Windows, macOS, Linux, Chrome, Fire TV, Firefox |
| Money-back guarantee | 30 days |
| Protocols | IKEv2/IPsec |
| Traffic data | Unlimited |
| Encryption | Strong: Military AES 256 bits |
| IP Addresses | Undisclosed |
| Servers | 1,700+ |
Using the VPN Surfshark every day
In this part of the VPN Surfshark review, I'll be talking about how you can fully utilize and get the most out of a VPN subscription.
Surfshark Netflix
Most VPNs are actually known to be able to access Netflix outside the country. However, what most people don't know is that not every VPN service can bypass Netflix. But this provider, however, is different.
It can easily access any Netflix servers. I tried it out on a bunch of different US servers in order to get the full movie catalogue, and I was quite satisfied with the performance. Let's hope that VPN Surf Shark can keep this up when a lot of users start connecting. This could prove to be a problem with small-scale providers if they don't increase their server numbers.
Surfshark Torrent
As we already know, this provider promises no-logs. This is a great reassurance for when you want to download torrent files. Since torrenting is actually illegal in most countries, you can rest assured whenever you torrent using this VPN Surfshark since it will successfully hide all your activities.
It is also torrent-friendly. So, you don't have to be scared whether you're breaking their terms and conditions or not. You can use their P2P protocol and simply connect to any of their servers to start downloading! When I first tried it out, you'll be happy to know that I had a very short download time.
Unlimited Simultaneous Connections
An amazing USP that you get when subscribing to this provider is that it actually offers unlimited simultaneous connections! This is very impressive to see since all the other VPNs on the market only offer a limited number of device connections. I think the most I've seen is 7 at the maximum. This way, you can share your account with ALL your friends and family while only paying a very reasonable price.
Server Locations
Since this is a VERY new provider, it still only has around 500 servers scattered in 50 European, American Middle Eastern, African, and Asian countries. But don't worry, these numbers are predicted to increase at a rapid pace. And of course, it covers popular regions like the United States of America, Canada, and the United Kingdom.
Surfshark VPN Review: Is Surfshark safe?
In this part of the VPN Surfshark review, we'll be talking about all the different security features this provider has to offer.
1. Kill Switch
This is one of the most common features that you can probably find in any other VPN provider. When you first launch your VPN Surfshark, you should remember to turn on this feature since it is deactivated by default.
This feature is great for the protection of your data since it automatically disables or 'kills' your internet access whenever it senses your VPN Surfshark connections are dropping. This is very important so that no matter what happens, your IP address is kept anonymous and away from prying eyes.
2. CleanWeb
This is another feature that is also present in other VPNs but, it has different names. This is VPN Surfshark's version of a blocker/ad tracker/malware blocker. Its function is pretty self-explanatory: it blocks annoying pop-up ads and helps keep you safe when browsing online.
3. Whitelister
This is a trademarked feature of VPN Surfshark that provides split tunnelling. This is great to use whenever you want to grant certain websites and applications access to your VPN connection. I am always recommending users to protect all their devices with a VPN. But sometimes, it'll be more of a hassle if you have to switch servers most of the time.
Take this situation as an example. You're connected to a UK server so that you can get access to the BBC iPlayer. But, you also need to be connected to a local server so that you can open a local site. You can simply turn on this feature and add the website to the Whitelist. However, you won't be visiting the local site with a VPN connection. You'll be completely out in the open. So, I recommend using HTTPS in the URL just to be sure.
4. MultiHop
This feature basically allows you to connect to two VPN Surfshark servers at the same time so that you can get increased privacy protection.
But a thing you should note is that even though using 2 servers is safer for you, it'll most probably slow down your internet connection. So it is best to only enable this feature when absolutely necessary.
5. NoBorders Mode
VPN Surfshark boasts of being able to bypass any censorships that it may be dealt with. This comes in very useful when you're visiting countries like China or North Korea. Did you know they ban a lot of social media sites like Facebook, Instagram, YouTube, Twitter, and even Google? But if you enable this feature, you can easily get around this problem. However, it will take a hit on your internet connection speed.
Surfshark VPN Review: The New SurfShark One
Surfshark's latest technology, the Surfshark One, was designed to give you maximum security from local and internet-based risks of personal privacy breaches. It is equipped with four secure components with reinforced security features.
The Surfshark VPN
A robust VPN is a vital component of Surfshark One. It provides additional security to your online activities and your privacy as your surf the internet like a shark in the Mediterranean. The VPN Surfshark is super enforced with a breach detection mechanism to bring your notice to huge risks to your personal information and online identity.
Surfshark Antivirus
The second feature of the new Surfshark One is the deep-reaching Antivirus software embedded in it. It turns your device protection to full blast in a single click. Provides routine scans of your computer files to ensure safety and sound health. 
Its modern sensitive protection feature helps detect malware and other forms of viruses before they even settle into your device. Now, you can track suspicious files in real-time and keep hackers at bay. 
However, you may want to keep some folders on your device out of the prying eyes of this antivirus. That was considered as well during the design of Surfshark One. You can have full control of its scannability by selecting the specific folders that it should and shouldn't scan.
Surfshark Search
This Surfshark VPN review will be incomplete without a mention of the new Surfshark search feature. It's a search engine that allows you to search the internet without logging your data, displaying ads, or tracking your activity. This is 120% anonymity in real-time as you access search results in every corner of the internet.
Alerts
The Alerts feature was incorporated into the Surfshark One to notify you of any breach in your personal security while you access the internet. It draws your attention to potential breaches in real-time and shuts down the malicious process before things get out of control.
This is important if you process lots of emails or online payments. It keeps your credit cards secure and your emails checked for malware before you click something dangerous.
Surfshark VPN Review: Windows client
Now it is the part of the Surfshark VPN review where we talk all about how it runs as a Windows client.
Interface
If you're one for minimalistic designs, then VPN SurfShark is the one for you. It has a clean and sleek design which is very pleasing to the eye.
You can easily access the best server with a simple press of the button. You can also select a server from the searchable list. They've also made it convenient to quickly select your favorite servers since it displays your recently used ones at the bottom of the dashboard.
Settings
To get to the settings, all you have to do is press the cogwheel. Here, you can find all the advanced settings that you won't be able to quickly access.
All the good stuff is available here! You can set the app to automatically launch whenever you start up your Windows device. It'll even connect to a server right away. This is great because you don't have to do anything anymore. So basically, it'll feel as if you aren't even using a VPN. You can also enable all the features we talked about earlier and customize them.
Lastly, you can set up the protocol. Actually, the app automatically selects the best protocol available. But, if you really want to make sure you're using OpenVPN, you can do this too.
Surfshark Review: Other platforms
If you're wondering how to get the VPN Surfshark, you can easily find it anywhere. It's available on desktop computers that carry Windows, Linux, and macOS. You can even get it on all your mobile devices under the Android or iOS operating system. And, you even can install it as browser extensions on Firefox and Chrome.
Surfshark VPN Review: Customer Support
Of course, this wouldn't be a good Surfshark VPN review without leaving a comment on their customer support.
If you ever run into problems with your VPN, you should always have a trusty customer service to turn to. Surf Shark VPN actually has a help site, email, and 24/7 live chat support to accommodate your needs! So, whenever you have issues (which is highly unlikely to happen), you can easily contact them!
Let's Conclude This Surfshark VPN Review
Now that you have everything you need to know about this tool from this SurfShark VPN review, a brand new service. I hope you were able to make your decision already. This is clearly a really impressive VPN service provider since it offers so many features at a very reasonable price. You can get the most out of your money with the unlimited simultaneous connections it offers.
This is definitely a good service to turn to if you want to protect your personal information, get good internet speeds, and safe torrenting. You can use it for all your day to day activities easily because of its user-friendly interface that even beginners can navigate.
I hope you enjoyed this Surfshark VPN review! Try it out today if it's matched your standards.
PROS
Fast
User-friendly
P2P and torrent (no logs)
Affordable