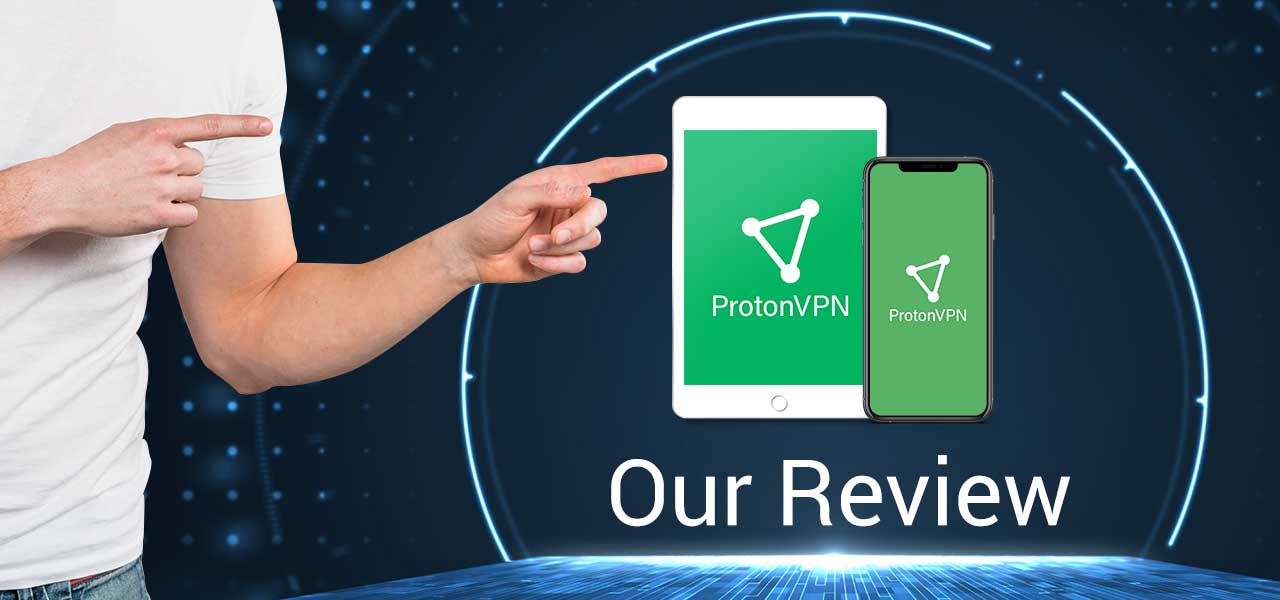 We created this ProtonVPN Review to help you with your VPN service needs. We got into the details as much as we can. Does it live up to its roots coming from the same team that developed ProtonMail? Read this before you subscribe
Subscribe Now
Protect your privacy with a VPN that has proven safety and security features
Try this Swiss VPN service provider. It's safe, reliable, tough safety and security features. It does not keep your logs thereby keeping your online presence anonymous.
ProtonVPN Review: Is ProtonVPN Safe?
Proton VPN was launched in 2016, it boasts of its roots coming from the brains behind ProtonMail. In case you have no idea what it is, they are a group of MIT and CERN Scientist and Harvard Physics Ph.D. They were the people who created one of the largest encrypted email services in the world.
However, it quickly gets traction because of its ad-free plan, no bandwidth limit, malware-safe and no user activity logs. Another good thing about this VPN is the fact that it is based in Geneva, Switzerland. In other words, they are operating in a country that is one of the toughest in privacy laws in the world.
Do you have remote employees working for your business? You don't want to have your file and email information readily available on the internet, right? Are you using Netflix but find out later on that it is geo-blocked? Or are you using on P2P file sharing, like torrenting, etc?
Especially in business, using a VPN is a necessity. For file sharing, P2P, torrenting, etc. you can either turn it on or you can have a dedicated server on the ready. If you're traveling, you just need to bring a travel router with you, set up the VPN and use it the way you want.
In general, it's how we use our computers that matter most. However, in most cases, since we don't want anyone to have easy access to our files and data logs, whether it's work, stream, using public WiFi, it's best to have a layer of protection. This is our ProtonVPN review. Read before you subscribe.
Proton VPN Review: Plans and prices
Besides the ProtonVPN free trial that lets you access three countries, medium speed, and a single connection, the company offers 3 premium subscriptions to choose from:
The Basic plan includes access to all countries, P2P file sharing, fast speeds, and 2 simultaneous connections
The Plus option comes with Plus servers, secure core features, streaming protection, and 5 simultaneous connections.
The Visionary plan comes with ProtonMail and a simultaneous connection of up to 10 devices.
The company accepts payment methods via credit card, Bitcoin, PayPal, and cash. Moreover, each subscription payment comes with a 30-day money-back guarantee and a 7-day free ProtonVPN trial. This gives users ample time to simply test the free service to see if it fits their needs.
(Installing the free version automatically activates the Plus free trial which is free of charge.)
ProtonVPN in details (summary)
| Feature | Value |
| --- | --- |
| Zero-logs? | Yes, your data and identity are safe |
| Works with torrents? | Yes |
| Netflix | US, UK, FR, AU, CA, DE |
| Multi-login | 10 simultaneous connections |
| Covered countries | 54+ |
| Supported OS | Windows, macOS, Android, iOS, Linux, Router |
| Money-back guarantee | 30 days |
| Protocols | IKEv2/IPSec and OpenVPN |
| Traffic data | Unlimited |
| Encryption | Strong: Military AES 256 bits |
| IP Addresses | Undisclosed |
| Servers | 1,065+ |
Proton VPN Review: Using the VPN
Netflix
Moreover, if you're having problems with streaming services like Netflix because of geo-restrictions in your area, US servers are working seamlessly. In like manner, so does servers in Germany, UK, and Japan. However, the server in Canada and France are indicating error messages.
It's also possible with other popular streaming services like Hulu and Crunchyroll. In the same manner, the speed is pretty decent which allows for streaming full HD without any buffering issues.
Torrent
Although P2P file sharing and torrenting are allowed, the company forbids BitTorrent applications to download or share copyrighted materials. Although this might be true, since they don't keep your logs, there is no way they can monitor your online activity.
However, this might be the company's implementation of no illegal downloads which is mostly for legal purposes but without any means of implementing it.
ProtonVPN Review: Logging and Privacy
This VPN service has been rational about logging and privacy. They have been consistent in recording user data as low as they possibly can. You can be assured that the company does not log your data in any way. The same is true when you throttle your connection or when you single-out certain applications, protocols, and devices for that matter.
Furthermore, the only instances where it will collect your personal data is during:
When you create an account. You have to provide your username, email, and password during the registration. (You can also use your existing Proton ID.) To say the least, the service will not ask to give your personal information like your real name and address.
When you send queries or bug reports. It only stores contents of your interaction along with other information you want to share with the company.
Payment method. If you prefer payment through credit card or PayPal, the company has a third-party payment processor that will store your name and the last four digits of your credit card. However, if you want to remain incognito, they are also accepting cash and Bitcoin.
The collected information is only used to provide your requested service such as payment processing and customer support. As much as your rights are concerned, you can easily delete the collected information. In fact, with data portability, you can also file a complaint to the right government authority.
ProtonVPN Review: Features
Servers Locations
As of this review, the company has more than 600 servers across 44 countries available worldwide. When you subscribe, you'll find that the Plus and Visionary plans will give you more access to these servers compared to the Basic and Free plan.
The client app will also give you server information to prevent you from using over-crowded servers. This will ensure high-speed performance when you use the service. You can use the Quick Connect option if you don't know what's the best server for your location. However, because it will connect you automatically, it's most probably that it will choose a server location from your country
If this is the case, you will not be able to use geo-restricted websites. Additionally, this function can be tweaked to choose the fastest server available on your location. Or it can also pick randomly from the list of available servers.
ProtonVPN Review: Secure-Core Service
In light of these features, these plans offer what's called the Secure-Core service. This means that it transmits your traffic through different servers in the company. Because it's being routed on a secure network within the company, this gives you an added layer of protection.
Protocols
The VPN service supports IKEv2/IPsec and Open VPN protocols. Because they keep safety and security measures at the top of their mind, PPTP and L2TP/IPsec locations as these protocols are not just outdated but they are cheaper to maintain. However, it supports TCP (Transmission Control Protocol) and UDP (User Datagram Protocol) connections.
Encryption
The company does prefer AES-256 cipher along with an HMAC SHA-384 authentication. Aside from these, they opted for an RSA-4096 handshake, making this combination a very solid configuration. Notably, the AES-256 encryption is dubbed as incorruptible by any modern computers. This is the reason why it's used by both the military and the banks for really tight information security.
You'll notice that a new security key is generated at every session. This is because the company is implementing what they call as perfect forward secrecy. This means that In a rare case that someone was able to access your encryption key for one session, that key will be unusable after you disconnect.
Is ProtonVPN safe? See it for yourself. Check it with ProtonVPN free trial for 7 days.
Multi-hop VPN
In like manner, this is often called the multi-hop feature because your traffic almost looks like it's hopping between various servers in different locations before it goes out on the web. This feature is equally important because it will protect your online privacy even if one server is compromised.
Kill Switch
The software comes with an automatic kill switch. This feature will automatically block your internet connection whenever there is a connection drop.
DNS Leak Protection
Surprisingly, according to another Private VPN review, they have never seen any IP and DNS leaks. This will prevent government agencies, nasty hackers and even international spies from picking your actual information.
Split Tunneling
According to other Proton VPN reviews, this feature enables you to transmit some of the apps you're using through this VPN but it will have to keep the rest out from the secure VPN tunnel. In other words, this feature prevents speed drops when you're using reliable apps that do not require encryption.
Tor compatibility
Likewise, you'll see that some servers in the client are marked as Tor-friendly. This feature will allow you to use to access the Tor (Onion) network using the VPN service.
This means that there's no need for you to install the Tor browser. (The Tor browser restrains your ISP from recognizing that you're using Tor's hiding capabilities.) Notably, the company puts a lot of emphasis on its infrastructure's physical security. This can be seen with its main hardware in Switzerland, Iceland, and Sweden. They are placed in former military shelters.
Is ProtonVPN safe? The company is taking all precautionary measures to do exactly as it says.
Proton VPN Review: Windows App
Interface
In this ProtonVPN review, the Windows app sure scores bigtime. It has an intuitive design, userfriendly and easy to navigate. After you install the app, pop-ups will guide you through the app's key features.
For example, the available server locations are displayed on the left side while your present connection status is at the top. You'll find a map on the right side with triangles indicating server locations. Your current server is the solid triangle. This makes it easy for you to track your connection and the server you're using.
The client app lets you create custom user profiles, pre-determined connection methods, servers, and server locations on 44 different countries for even easier access.
Settings
In this Proton VPN review, we included some advance ideas for the more advanced users. Having said this, you can access the additional advanced settings in the Options menu. You can change UDP/TCP protocols and even the Killswitch feature. Notably, changing the protocols will determine how your online traffic is sent from the device to the server.
Technically speaking, UDP supports faster connections while TCP is more stable. TCP protocols are much hard for the government and other network administrators to block. The Windows app uses automatic protocol selection but you have the option change protocols whenever you see fit.
Here's our simple guide when changing protocols:
use UDP when you want fast connections like streaming movies, playing online games, or P2P file sharing.
use TCP when you're connected to a weak, unsecured Wifi, or in a place where a VPN is blocked like university WiFi.
If you want to confirm, ProtonVPN free trial for 7 days is still available.
Other Supported Platforms
Currently, the VPN service supports Windows, macOS, iOS, GNU/ Linux and Android. It can also be used with prominent browsers like Google Chrome, Mozilla Firefox, Safari, Edge, IOS Safari, Opera, Samsung Browser, Chrome for Android, and MIUI Browsers.
Similarly, when you use the native app, you will not have to manually work on the files on their official download page. (The page features Open VPN config files that are for third party clients and routers.
Customer service
In case you're wondering about how you can contact them, their web site's FAQ section offers everything you need to know about it. If you want to send them a ticket for your complaints and other queries.
You also have the option to send them an email, however, their support staff suggests you submit a ticket for faster response. Unfortunately, as of this writing, they don't have live chat support available.
Conclusion
Proton VPN is a top-shelf VPN service provider with tough security features and privacy. It has a user-friendly and engaging app that's easy to navigate even for beginners. In fact, it's one of the best-designed apps on the market. It promises many great features that torrent users and streamers will love.
Although it falls short on some important facets, it's a win when it comes to their variety of support channels, speed and value for money. For the most part, this VPN is a worthy competitor in the battle of VPN providers.
Is ProtonVPN safe? Yes. We confirmed that their no-logging policy can be trusted. Otherwise, you can test their service with ProtonVPN free trial for 7 days.
(In the event of billing mistakes, or any other faulty service on the company's behalf take note that the customer support team is giving compensation through ProtonVPN coupons.)
PROS
600+ servers
Unlimited speeds
No activity logs
Tor support
Automatic killswitch