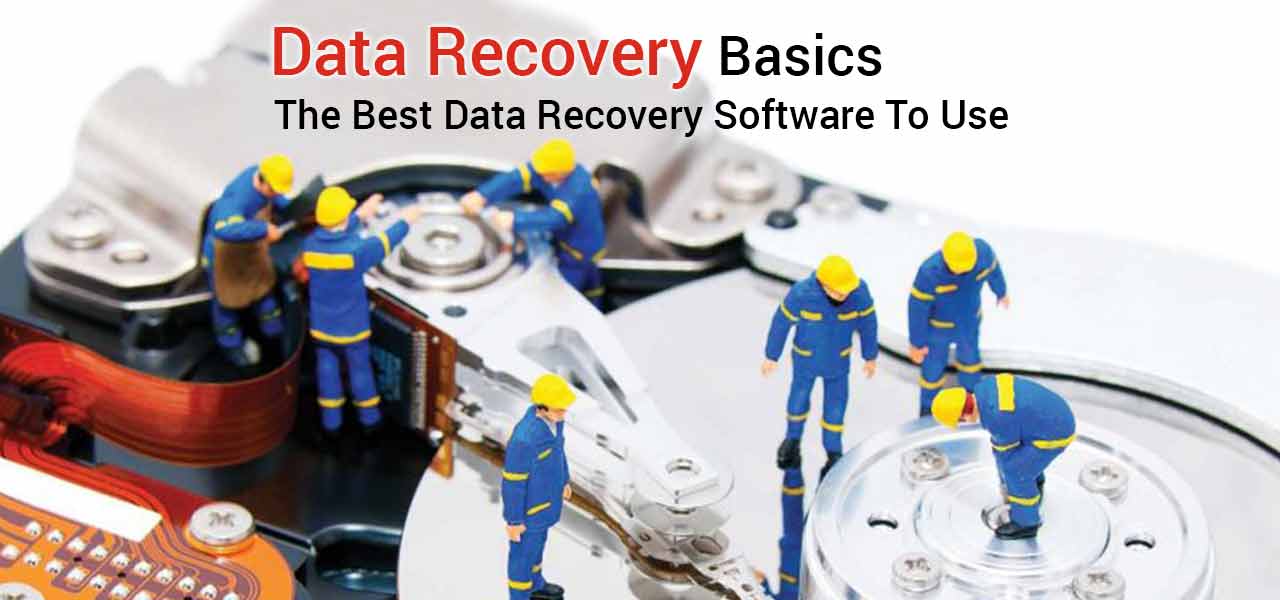 Updated on 25 November 2022
Losing important documents, folders, and photos can be such an inconvenience whether you accidentally deleted it or your drive got corrupted. The worst part of it is that you feel like it's lost forever and there's nothing you can do to recover it. Or you might be aware of data recovery but have no idea on how to do it or where to start.
Fortunately, data loss happens all the time in the tech industry and plenty of software vendors have developed data recovery services to fix your problem. So no matter how small or big or insignificant or important your data is, we've listed the best data recovery software to help you restore your files. From the free versions to the premium software, we've got you covered.
Best data recovery software
Recover all your lost or deleted files such as Office documents, emails, spreadsheets, presentations, photos, videos, audio files and more with Free Windows Data Recovery Software.
Easy Two-Step Recovery – What to Recover & From Where to Recover
Recovers All File Types including office documents, photos, emails, videos, etc.
Allows you to recover free data up to 1 GB
Recovers from Hard Drives, SD Cards, USBs, Cameras, Formatted Partitions and Camcorders
Allows You To See Preview Of Recoverable Files Before Saving
Compatible with Windows 10, 8.1, 8, 7, Vista, and XP
What is data recovery?
As its name explains, data recovery is the process of restoring data that has been accidentally deleted, lost, corrupted, or inaccessible. Whatever lost data that has been on your hard drive, flash drive, or other storage media can still be salvaged and restored using a data recovery software.
How does it work?
Loss of data can happen in plenty of ways, but the good news is that recovering it is still possible even is the storage media has been severely damaged, disintegrated, burned, or destroyed. Of course, for the extremely worst cases, it might be more difficult but it's not entirely impossible.
So how does computer data recovery work? It depends on how the data was lost in the first place. Some of the most common ways are the following:
Deleted File
If you accidentally deleted a file on your drive, don't worry because any file that is deleted will stay in your drive until it's overwritten by another file. If you try to recover it as soon as possible, the chances of getting that file back are very likely. However, if you do anything on your computer after the file was deleted, it could result in the file being overwritten and unrecoverable.
In case of accidental file deletion, don't try to do anything else on your computer. Even surfing the internet can potentially overwrite the file you want to recover. Instead, look for data recovery services that use algorithms to go through your hard drive and guess where the file was physically stored. If you're lucky and quick enough, it can locate the file and recover it.
File corruption
Anyone who has owned a hard drive dreads that 'corrupted hard drive' warning. If you're living this nightmare, it's still possible to get the data recovered. Most of the time, only the operating system has been corrupted and your data is totally fine. To remedy this, just copy the contents from the old hard drive to a new one.
In some cases where the partition table is corrupted, you will need to use a more complex hard drive data recovery. A data recovery software can still repair the partition table and get the files back. Or if it fails to fix the partition table, it can still recover enough information to get your files back.
System Format
Just like deleting a file, formatting a file system also deletes all the data you have. The likelihood of recovering your data depends on the type of system format. FAT file systems destroy a huge amount of data, therefore decreasing the possibility of recovering your data, while NTFS file systems have a higher possibility of data recovery if they are overwritten with the same file system.
With enough information left, using a data recovery software can help you repair the file system and locate the lost files. A computer data recovery software like Stellar Data Recovery has sophisticated scanning abilities that can locate almost any type of lost data.
Physical Damage
A damaged drive is extremely difficult to fix on your own, so it's advisable to leave the complex work to the professionals who specialize in hard drive data recovery. They will try to fix the damaged parts of the drive and repair the corrupted parts using advanced software.
How to choose the best digital recovery software:
Not everyone is knowledgeable about data recovery, and that's okay. There is a wide array of software out there that promises to help you recover your data, and we're here to give you tips on how to narrow down your options.
Consider these factors carefully before committing to one software:
Supported by your operating system. Some software might only support one type of operating system so before purchasing, double check if it's available for you whether you're a Windows or Mac user.
User-friendly interface. It should be easy enough to navigate and shouldn't require additional tools to recover the data that you lost.
Supports the type of files you want to recover. Make sure that the software you choose can recover the types of files that you lost, such as those for images, videos, documents, music, and others. Purchasing a software that isn't compatible with the file types you have would be a waste of resources.
Contains other features like online backup.
Allows you to preview files. Before starting the retrieval process, the software of your choice should allow you to preview the corrupted files because you might restore the wrong file. Having a preview feature will save you time and effort.
Able to retrieve files after a partitioning error.
Recovers data from the recycle bin even after it's emptied.
A good quality software should, of course, be able to retrieve your data no matter how complicated the loss is. Moreover, it should be easy to use because not everybody is tech-savvy. Look for those with good customer service in case you encounter any difficulties with the software.
Is free software good enough?
Restoring lost and damaged data is not an easy job, and it's understandable that you might have doubts about all those free software being advertised in the market. They promise to recover your files without charging anything and it sounds really appealing (I mean, who doesn't like free stuff?) but the truth is that it could do more harm than good. Moreover, free versions aren't usually equipped with the full features that you'd need for data recovery.
If you have been doing your homework on researching about data recovery, you might have heard some claims that some free software have accidentally damaged the data that were trying to recover.
Nowadays, these cases don't happen more often but older versions of free software could potentially lose the data you're trying to look for. Scanning for lost files is a very delicate process and if the free software isn't equipped to handle that, it can accidentally overwrite the deleted files during the scan, making it useless or corrupted.
Check out our reviews on the best data recovery services and rest assured that we test them out ourselves. We give honest-to-goodness reviews based on their ability to recover lost data from the simplest to the most complex cases. Also, some of the data recovery software we review offer a free trial for their premium subscriptions so be sure to check that out.
Why is data recovery expensive?
It's important to understand why data recovery costs such a hefty price and why it's worth it despite having to shell out a hundred to a thousand bucks. After all, spending on data recovery is much better than losing the data forever, right?
First, as this article has already explained, the method of salvaging the data depends on how it was lost and its severity. The services needed to repair a drive and recover files may vary. If the problem is as simple as file deletion, a good software can easily retrieve it for you, but in cases like physical damage of the drive, it might not be as easy.
If your computer is warning you that your drive is corrupted, you need to take action immediately if you still have plans on accessing the files again. Continuing to use a failing drive will make data recovery more complicated and could lead to a more expensive recovery or loss of files forever. If the drive is physically damaged, you must take extra care with it and have it repaired immediately.
In this case, looking for an excellent data recovery service company is crucial. Before you entrust your drive to anyone, take the following steps:
Make sure that the company is reputable and known for their services. Online reviews and referrals will help you narrow down your search.
Professional data recovery workers must have certifications proving that they follow the best practices and processes. They should be able to securely handle sensitive data that could possibly be stored in your drive.
Ask them if they can handle multiple problems, such as devices that are corrupted in multiple ways. It would be a waste of time if they can't retrieve everything and you'll have to go to another company.
Check online reviews on how the company handles customer service. They must be able to deliver quality customer service and treat every case with the utmost care.
Best Data recovery software: